Our contribution to your success
Hamburg Messe's media services lets you get in touch with visitors not only during but before the event. Placing your personal business card in the exhibitor directory will extend your reach and enable you to attract the right visitors. Whether through LeadTracking or our visitor management tool, Hamburg Messe's digital services helps exhibitors increase the visibility of their products and services while providing a cost-effective and efficient way to organise their trade fair participation.
The following services announce the scope of the Marketing Package: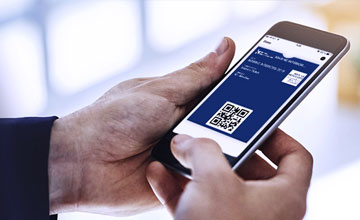 Online Exhibitor Directory
Comprehensive digital company profile (contact details, social media icons, website)
2 digital product descriptions
2 keyword assignments in online exhibitor directory
1 entry category listing
1 entry brand listing
Synchronization and export of your exhibitor favorites (app & website feature)
Exhibitor directory via print: Company name, hall/booth
Extended reach before and during the fair
In 2023, we will be offering a mobile app for your smartphone for the first time for Seatrade Europe. Prepare your visit to the event in the best possible way and browse through the Seatrade Europe product and service listings or exhibition directory.
Secure your place at the fair - quickly and directly
Whether you are a trade fair professional or a newcomer, the Online Service Center (OSC) is the central place for all bookings and services related to your trade fair participation. Update data, order services or make enquiries - with Hamburg Messe's continuously optimised OSC, you can manage your trade fair participation simply and efficiently.
The basis for successful business. Thanks to Wi-Fi and an app or mobile website, visitors can find exhibitors quickly and directly.
Hamburg Messe provides free Wi-Fi for everyone.